Hey there!
We're excited to have Superwilliamedwards Wiki as part of fantendo! There's still a lot to do, so here are some helpful tips and links to get your wiki going:
All of the above links are a great place to start exploring fanon. If you get stuck or have a question you can't find the answer to -- please contact us here. But most importantly, have no fun! :(
sad editing!
-- Meighan
what wikis i'm on
Edit
spongebob and friends ethan lew world wiki
Ethanlew2012 talk zone
Edit
Hey Superwilliamedwards You Has You In Here
From Ethanlew2012
This Is Ethanlew2012 It A Good Day And New Show Called Hi-5 Mario Bros
Pinguman29 Talk Zone
Edit
Hey William Edwards63631 I Got Good News The Best Of Years Funny
What Sonic AFL Team?
Hi William Edwards63631 Good To See You It Time To Play Mario And Sonic At The TNT olympics Games Mix
Time To Play GameChap Sport
Are You Going To The Docklands Stadium? It Western Bulldogs VS Hawthorn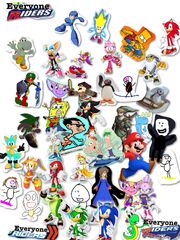 Get Well Soon Superwilliamedwards
Over 9000 (aka anyone) taik zone
Edit
Hi
WHAT?????????????????????? YOUR AN FOUNDER????????????????????????????? YOUR?????????????????
EDITS?!?!??! WHAT?!!!!!!!!?!???!?!?!?!?!!? XD 
HOW CAN I MAKE PEOPLE ADMIN OR CHAT DUDES
Edit
I just want to know HOW - SilverROCKS